Mission Statement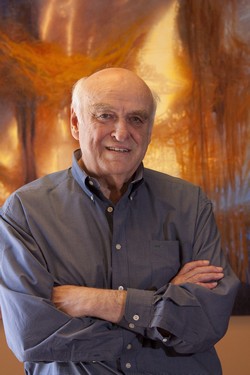 Whether he was toiling as a reporter, editor, adman, master gardener, or creative director and chief marketing strategist at Oregon-based Jantzen for more than three decades, art has been a central driving force in the life of Roger Yost.
During trips abroad for business summits, or to shoot ads in exotic places, Yost would invariably return home with canvases that reminded him of the journey or a cultural era.
In his gallery you will find paintings and sculpture from Lithuania, The Czech Republic, Vietnam, France, Germany, Argentina, Russia, Spain and Hollywood. Pop art inspired by Disney and the Pixar Animation Studios. Still life oils on boards and copper from the leading artists of the United Kingdom and Budapest. Poured bronze from Mark Hopkins, one of America"s foremost sculptors. Art that celebrates our love of fine wine and music.
The Roger Yost Gallery also features abstract images, modern impressionists, photo-realism wildlife art, and surreal flights of fantasy. We will always offer our world-wide visitors art that is beautiful and collectible. Visions and imagination that are unrestrained by historical boundaries.
We want the Gallery to be a source for learning. A place where the creative person that lurks within each of us can feel welcome and at home.