Schim Schimmel Biography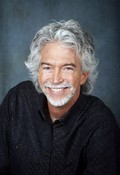 Schim Schimmel
| | |
| --- | --- |
| Born | 1954 |
| Birthplace | Tucson, AZ |
| Home | Arizona |
| Style | Environmental Fantasy |
Snow leopards, white tigers, elephants and lions; the earth, the moon, galaxies and nebulas; these are the subjects that leap off a Schimmel canvas and into the hearts of those who see his work. For over twenty years now, Schim Schimmel has been painting in a style uniquely his own, expressing on canvas his love and awe for this incredible planet, its animals, and the universe that brought them into being.
Schim knew early on that he longed to be an artist, in part because his father was a well known watercolorist and art instructor. As a young child, Schim would sit and watch his father paint, fascinated by the creative process. By the time he was in his teens, Schim began taking formal lessons at his father's art school in Phoenix, Arizona. Soon Schim began teaching classes of his own and continued teaching for over seven years, while at the same time developing his own artistic talents as a landscape painter.
From the mid-seventies to the mid-eighties Schim's reputation as a landscape painter continued to grow. As the years passed, however, he became more and more creatively restless. No longer satisfied to be just another landscape artist, Schim embarked on a creative and spiritual quest to develop his own unique style of art that would send a powerful environmental message to others. The result of this period of exponential growth led to the style of painting he is known for today.
In 1991, Schimmel's artwork was shown at the Tokyo Art Expo in Japan. Thus began a remarkable relationship between Schimmel and Japan that has continued to grow to this day. In the last fifteen years, Schimmel has made over 45 trips to Japan, attending hundreds of exhibitions in well over 50 cities throughout the four main islands of the country.