Michael Cheval Biography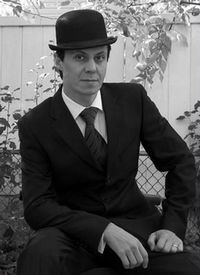 Artist Michael Cheval
| | |
| --- | --- |
| Born | 1966 |
| Birthplace | Kotelnikovo, Russia |
| Home | USA |
| Style | Absurdism |
In Michael Cheval the Roger Yost Gallery brings to the Pacific Northwest, the world's leading contemporary artist specializing in absurdist paintings.
In his view, absurdity is an inverted side of reality, the flip side of logic. It does not emerge from the dreams of surrealists, or the work of subconsciousness. "It is a game of imagination, where all ties are carefully chosen to construct a literary plot," Michael explains.
Any one of Cheval's paintings is a map of his journey into illusion – often metaphorical that requires a sharp eye to decipher often hidden meaning.
Born in 1966 in Kotelnikovo, a small town in southern Russia, Cheval and his family moved to Germany in 1980. In 1986, he moved to Turkmenistan where he graduated from a school of fine art.
In 1997 he emigrated to the U.S., returning to the western culture that greatly inspired him during his life in Germany, but reshaped by his own experience, philosophy and vision.
Cheval has published two books of art, Lullabies in 2004 and The Nature of Absurdity in 2007.