David O'Keefe Biography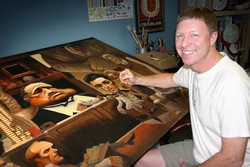 David O'Keefe
| | |
| --- | --- |
| Born | |
| Birthplace | |
| Home | |
| Style | |
After a highly successful 26 year career in the corporate world, David and a few excited business-savvy friends are thrilled to launch the publishing of David's extraordinary art in the formation of David O'Keefe Studios, Inc.
While many of David's past works were produced for his employer, The Tampa Tribune, or commissioned by media giants such as Coca-Cola, Waffle House, Fuji, SunCom Communications, and 20th Century Fox, several of his pieces were created for his own self enjoyment. His sardonic caricatures and humorous illustrations have appeared on the covers of Sports Illustrated, Sports Illustrated for Kids, Mad Magazine, The Village Voice and within the pages of TIME.
These painting and sculptures, along with new works, will finally be available to the art world in the form of limited edition fine art prints and coming soon, limited edition Sculpture Uniques. While many artists today attempt to replicate the style of previous greats, the most remarkable attribute of David's work, like all legendary artists, is indeed its originality.
David's work has won numerous awards from such organizations as The Society of Illustrators (NY and LA), American Illustration, Communication Arts, National Headliner Awards, Dimensional Illustrators, and the Society of News Design.